50+ Amazingly Gorgeous Living Room Decor Ideas To Inspire Your Next Makeover
In Today's post I wanted to share the best living room inspirations that I am currently eyeing up.
I will most likely be getting a grey sofa and I love a more clean look and neutral, cool tones.
However, I am really really liking the idea of adding a more rustic looking key piece, like a coffee table, a lot of plants, and some accents in warmer tones... I just love how that vibe feels in those photos below!

Tell me what you think! Which one is your favorite living room idea?
LIGHT WOOD FLOORING
Credit: SnapWidget
A light wood floor creates an airy and fresh feel to the room.  A great place to start and you can always warm up the room whenever you want with area or layered rugs.
Cozy living room with different textures and tones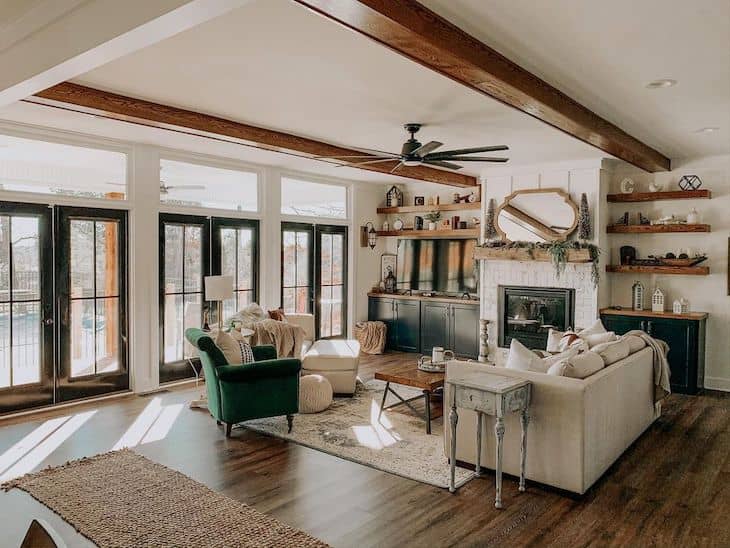 Photo credit: @ncmodernfarmhousedesign
Elaine gives an example of how can you create a cozy living space by layering different textures and tones to warm-up your space and make it inviting.
Her living room is flooded with light from the set of french doors, thus using darker tones in her decor, like the dark wood floor and the cabinets on the fireplace wall do not overpower her living space.
The wood beams complement the open shelving around the fireplace as well as the solid wood on the coffee table and bring rustic charm.
The living room look is livened up by the emerald green accent chair, and the oriental rug gives this room a touch of traditional appeal.
The shabby end table elevates the look with vintage charm. This incredible space is anchored with the beautiful distressed piece of wood acting as a mantel.
Shiplap Walls
Shiplap walls are the perfect wall to ceiling treatment for a farmhouse.
Originally, the style was born out of necessity and convenience, and it's had a place in the construction of homes for generations.
Today, shiplap is an easy way to give your home a rustic look. You can also repurpose wood and make it authentic and environmentally friendly.
For a more rustic farmhouse style, choose wood planks that have some imperfections.
To keep your shiplap looking fresh, paint it white. This will brighten your living room. If white paint is too dull, consider giving your wood a whitewash treatment.
This gives you the benefit of white paint while also showcasing the beauty of the wood grain.
Grey farmhouse living room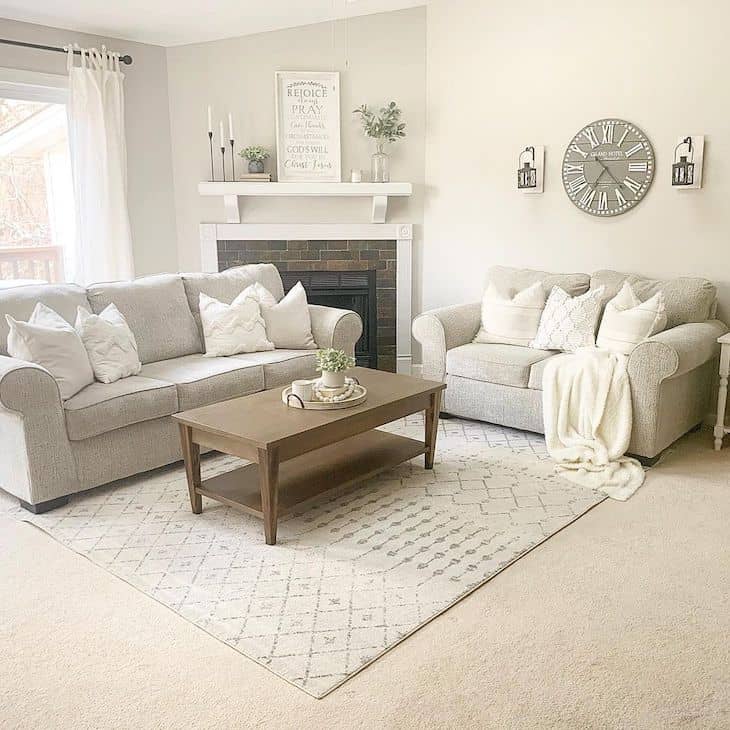 Photo credit: @letsstayhome_blog
Grey is one of the most popular farmhouse colors because of its versatility and calming nature.
Whether you are going for a country vibe or a more sophisticated and elegant look grey is the way to go.
Grey color provides a beautiful backdrop for the other things in the room to shine.
Grey pairs beautifully with natural wood like the one from the sleek lined coffee table. This classic living room centerpiece offers plenty of storage and a hidden drawer.
The vintage rustic washed gray wood clock fits perfectly with this farmhouse decor.
The round rustic wood tray is a perfect base for a decorative arrangement.
Farmhouse living room with warm tones
Photo credit : @squiresfarmhouseliving
If you want to give your home an authentic farmhouse feel, stick with natural fibers and materials, like the linen sofas in this living room.
They offer cozy feel while adding texture to this living room.
Another farmhouse decor piece in this living room is the rectangular coffee table with the famous x-shape design on the sides.
The wood stained top of the coffee table is in the same shade as the hardwood floors while the white base makes a contrast to it.
The whitewashed brick fireplace is the perfect base for the rustic wood mantel.
On each side of the fireplace, there are built-in cabinets with both open shelving and closed cabinets that provide additional storage space as well as a display area for your favorite decor items.
(source)
Neutral farmhouse living room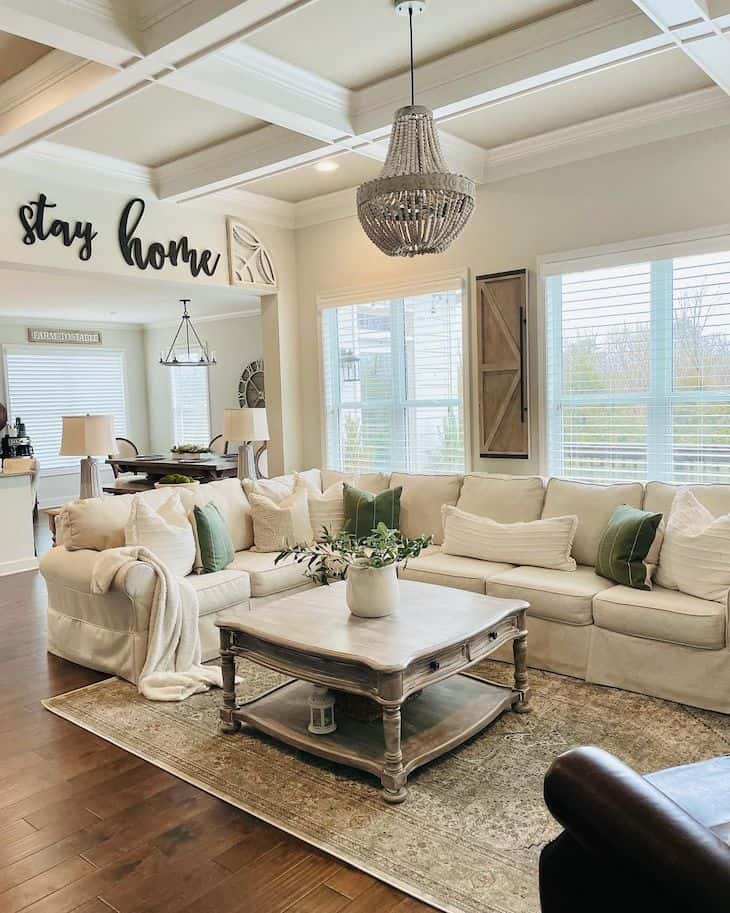 Photo credit: @casagrella
A cozy sectional for modern farmhouse styling is what makes this room warm and welcoming. We love the neutral palette with the pop of green from the throw pillows. And that gorgeous grid ceiling with white beams left us in awe.
The traditional style coffee table in grey-washed wood is perfect for showing off a houseplant in a charming style, or you can go with faux greenery like artificial olives. And the big farmhouse sign on the wall adds a farmhouse-chic appeal to this space.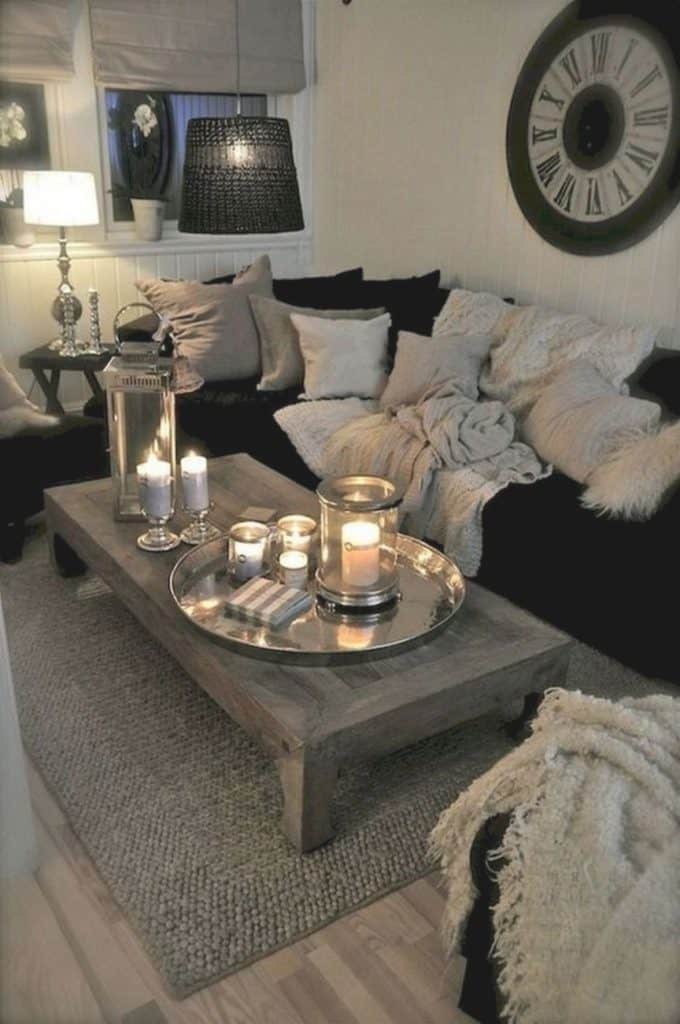 (source)
(source)
(source)
(source)
(source)
(source)
(source)
(source)
(source)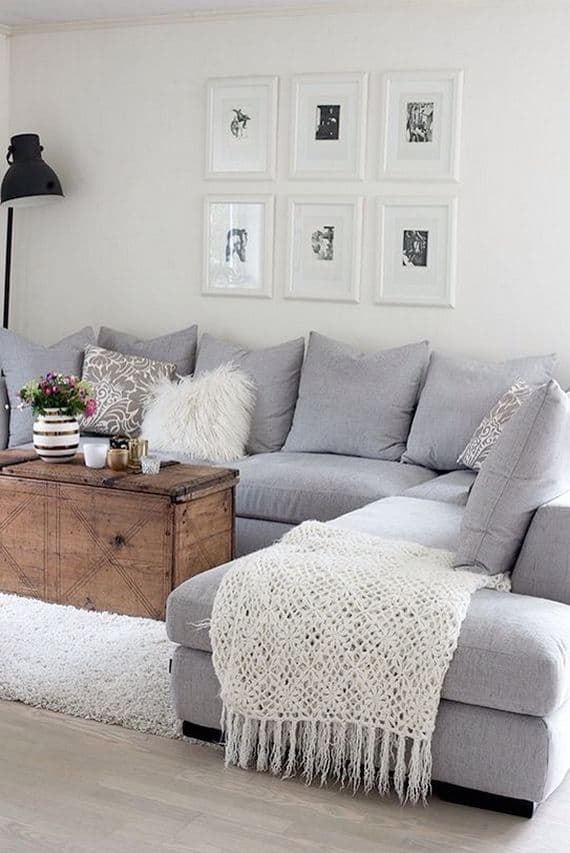 (source)
(source)
(source)
(source)
(source)
(source)
(source)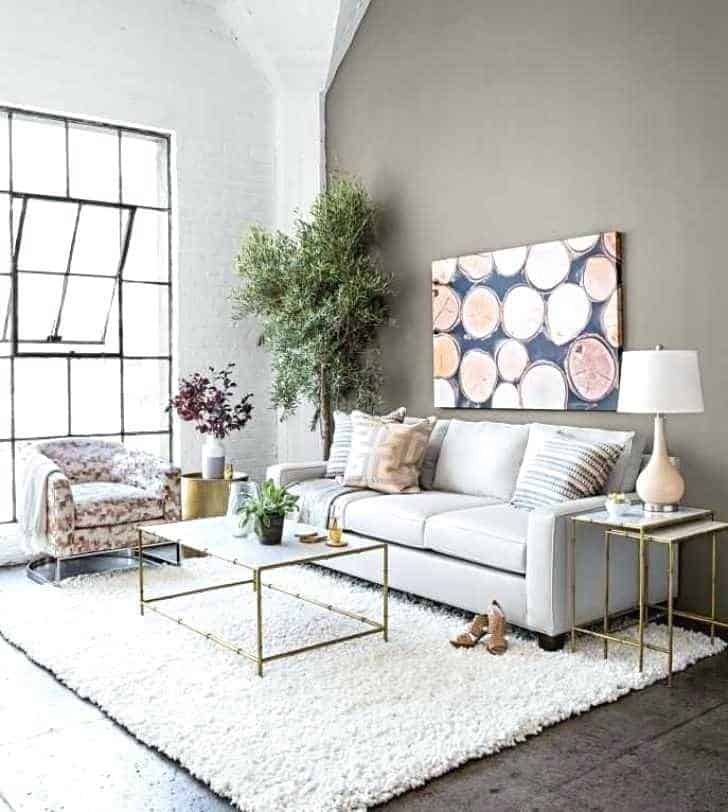 (source)
(source)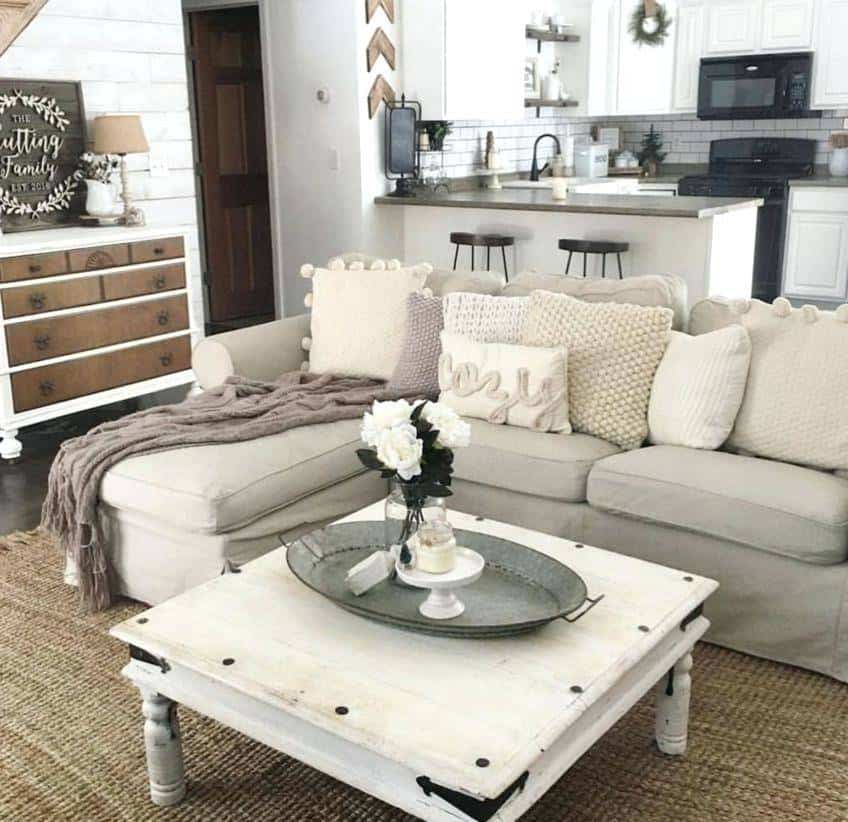 (source)
(source)
(source)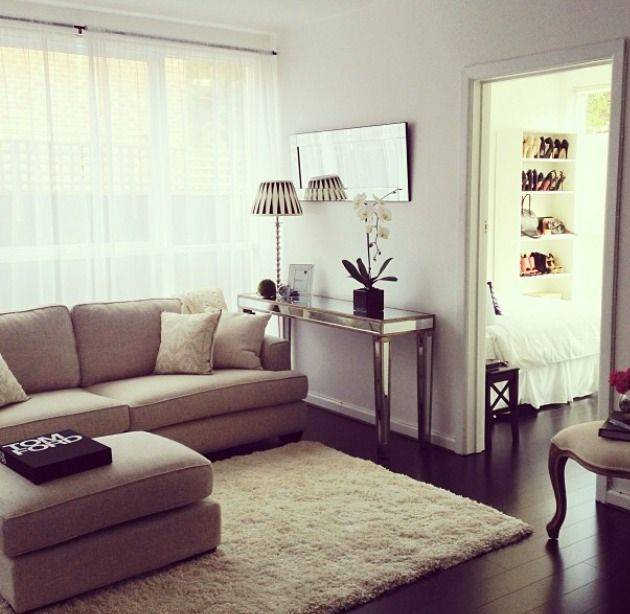 (source)
(source)
(source)
(source)
(source)
(source)
(source)
(source)
(source)
(source)
(source)
(source)
(source)
(source)
(source)
(source)
(source)
(source)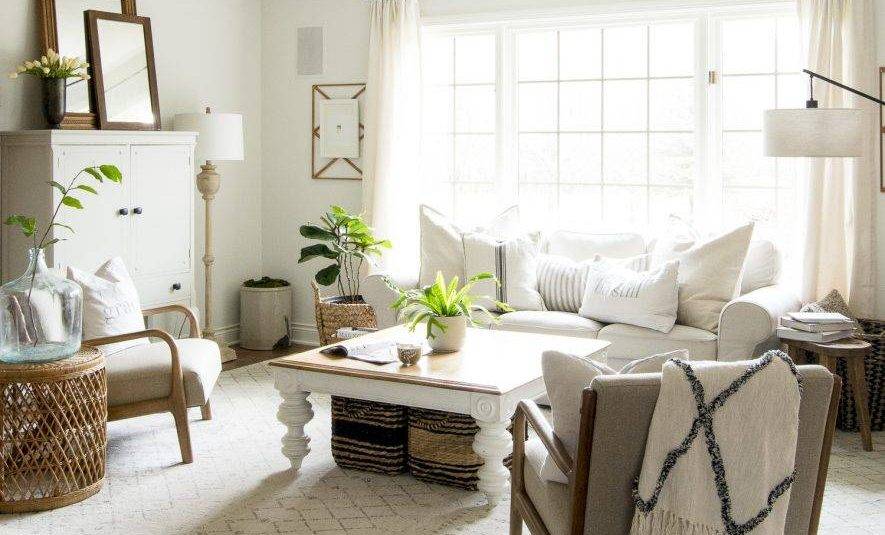 (source)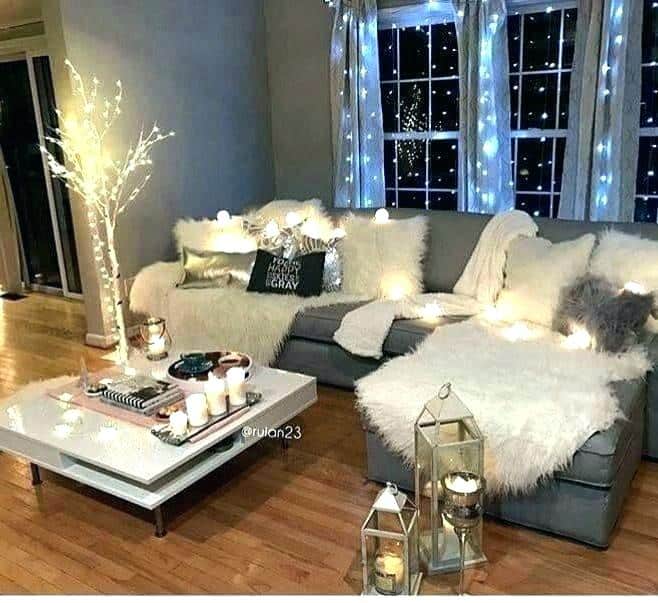 (source)
(source)
(source)
(source)
(source)
(source)
(source)