23 Of The Best Genius Craft Room Organization & Storage Hack You'll Be Glad You Now Know
An organized craft room brightens the mood and can help to boost creativity.
However, your craft room can get messy really quick when you are busy with your new creation
That is why, having a system to keep your craft room organized is essential to your safety, preventing mess from piling up and everything easy to manage.
In today's post, i have 23 exciting craft room organization ideas that'll motivate and inspire you.
Let's dive right in!
1. DIY Pegboard For Your Accessories
Pegboard are like bread and butter when it comes to craft room organization - Because they are excellent to organizing just about anything!
This large pegboard can be easily mounted on the wall because of it's popular frame
Use this pegboard to organize your markers, ribbons, scissors, tapes, paints,  ruler and more!
The other great thing about pegboard is that they do not take up floor space which is a plus if you have small storage space.
Pretty functional and looks good too
Here is a pretty good quality pegboard on amazon that is ready to use. 
You might also need some pegboard hooks and bins
2. Cube Storage Baskets
My next favourites are cube storage baskets
These are excellent for cube storage shelves, use these to store irregular items like wool, files, molding, clay, cloth and more
they have large handles which turns them into drawer, giving you easy access to the items you need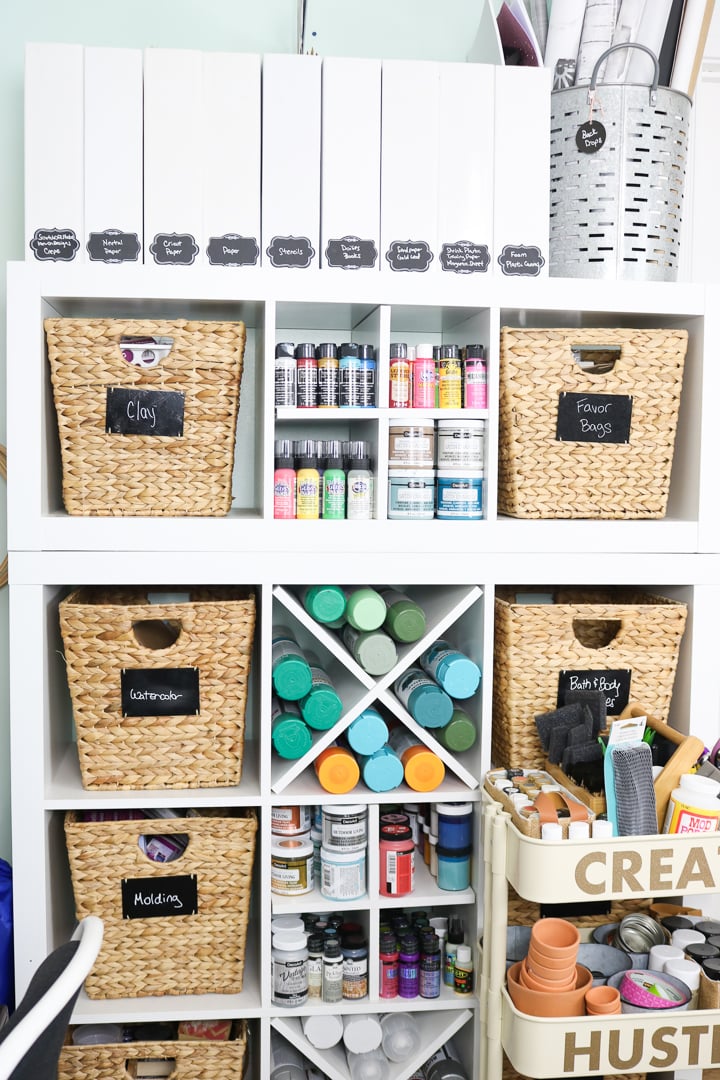 Credit: Thecountrychiccottage
I recommend keeping the more frequently used items at eye level, the lighter least used at the top, and the heaviest item at the bottom.
In case you're interested, here's the same cube storage box on Amazon
3. Washi Tape Storage
To easy see your washi tape, we recommend keeping them in a clear storage container like this.
This is essentially a 2 in 1 washi tape storage box + dispenser, making it convenient to cut tape instantly. Plus, it holds many tape in 1 organizer
You can check them out here
4. Display Rack Stand
Credit: Instagram
If you love to showcase your supplies, then i would highly recommend you get a display rack stand.
They are great for organizing your thread, paint, nail polish, glitter and more.
Here's a similar looking 6 tier organizer that you might be looking for
5. Craft Storage Cart With Drawers
Credit: feelingnifty
If you are limited on space, then this craft storage cart can be really useful when it comes to crafting.
Personally, i think it is a neat looking cart that can be incorporated into any home decor style.
Check out how others are using this craft storage cart on amazon
6. Marker Stash Organization
Have a large collection of pen, markers and pencil?
Then you are going to love this marker organizer
It beautifully displays your favourite stationery, making it easy to find and organize. 
If you are interested, here's a link to the stationary organizer
7. Fabric Storage Idea 
Credit: ishandchi
If you have lots of sewing fabric, then this is an amazingly simple hack that you want to utilise.
All you need is a closet and hangers to be able to see your beautiful textile with one quick look.
8. Smart Wall Organizer
Such a simple idea that is perfect for small craft rooms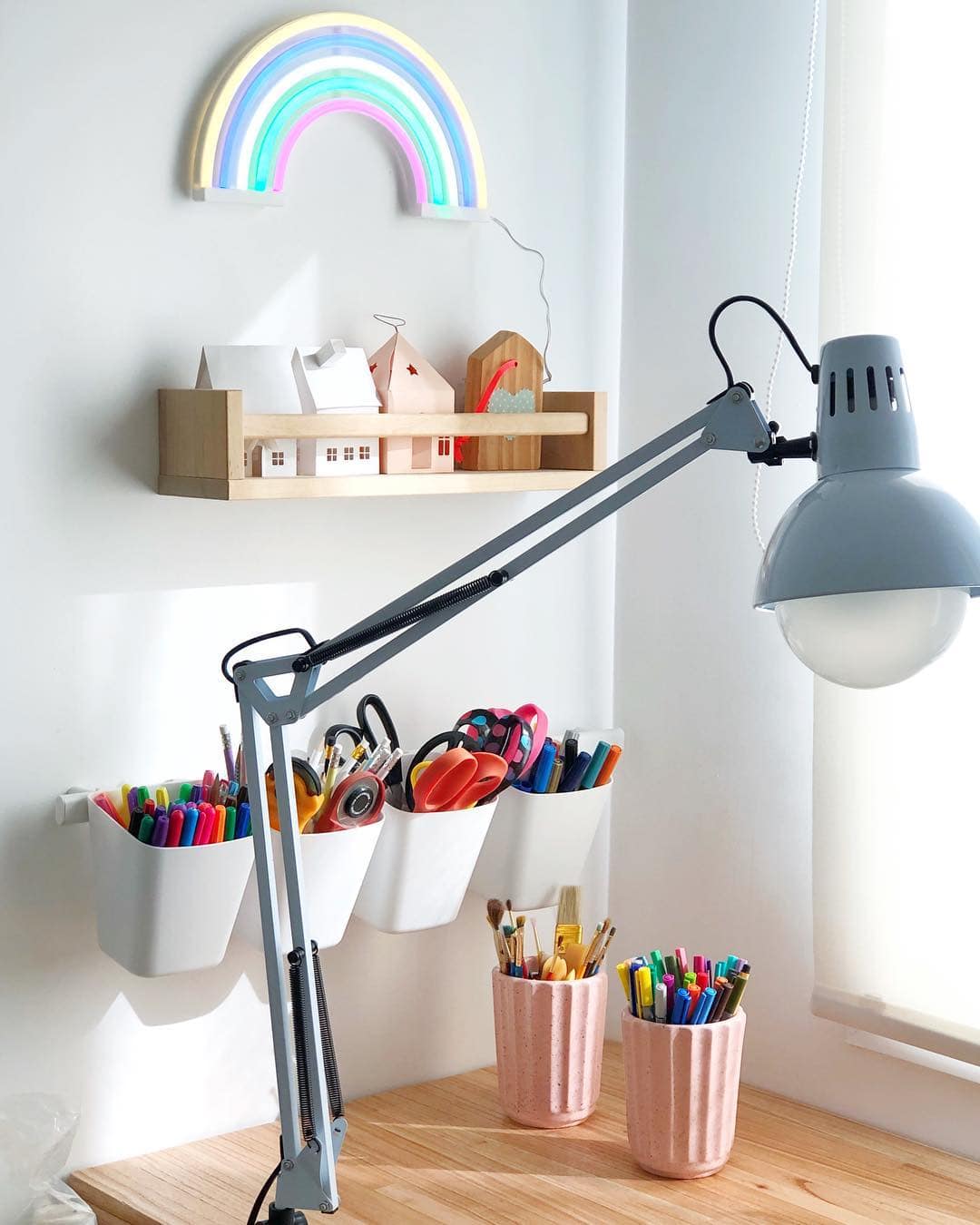 Credit: instagram
This organizer keeps everything in one place and helps you to unlock the vertical space you aren't using.
If you have a huge collection of stationery, then you might want to try this wall organizer with a simple concept
9. Wall Mounted Vinyl Roll Storage
Such a smart idea for vinyl roll storage
Who would have thought to use a grocery bag holder for roll!
If you have countless number of vinyl rolls, then this cheap and simple idea perfect to keeping them organized without taking additional room
You can get these grocery bag holder on Amazon
10. DIY Paint Organizer
Credit: pinterest
If you are into DIY, then you might want to consider making your own organizer with a large wooden board, some nails and wire baskets.
Looks really beautiful and creative if you ask me.
11. Craft Storage Organizer
Credit: Instagram
If you have a craft room, then you probably have lots of small items like buttons, needles, bead and many other small decorations lying around.
Hence, it might be a good idea to keep them organized in a craft organizer with pockets.
That way you can avoid the mess, keep like items together and find them with ease.
Here's the exact same craft storage organizer on Amazon
12. Embroidery Floss Organizer Using Pegs
How i wished i knew about this trick earlier.
Credit: heatherjslife
Who would have thought of wrapping embroidery gloss around clothes pegs!
I used to have a stash full of different embroidery floss that made it really hard to find the start of the thread.
13. Glass Jars For Craft Storage
Always forgot which jar, or box you left your craft items?
Credit: sweetredpoppy
Then you might consider a glass jar for your craft storage. It lets you see what's inside while keeping your craft organized at the same time!
Another advantage of using a clear glass container is that you'll be able to exercise your creativity much better and use what you have
14. Labeling Your Craft Supplies
Love making cards and drawings?
Credit: Instagram
If so, then it might be a good idea to label your paper cards with stickers.
It keeps things easy to find and everything just looks more organized.
15. Behind The Door Rack
Credit: Instagram
If you have limited storage space in your craft room, then a behind the door rack is going to help (mainly because of the extra storage space it provides)
This adjustable door organizer is really easy to install (no drilling needed) and is great for washi tape, paint, embroidery and other small items.
16. Craft Paper Storage
If you have piles of pretty paper everywhere and you are having trouble to stay organized, this this DIR paper storage crate is perfect for you!
Credit: creativeamblingsblog
You'll need a wooden crate, hanging file folders for this project
You might want to paint your wooden crate to add more live to your craft room, although this is totally optional.
Once the paint has dried, add hanging file folders so that it is well fixated on the sides of the crate.
Now add your craft papers into different sections to keep them seperate
You might also want to consider a labeling machine to keep track of stocks
17. Multi-purpose Organization Cart
Credit: repeatcrafterme
Carts are great organizer because of their mobility and can be used in more than one place.
You may consider using them for storing crochet supplies, stationery, craft supplies and whatever you may choose to do with it.
Here's the 3 tier cart that you might be curious about.
18. Floating Washi Tape
Credit scatteredthoughtsofacraftmom
Not exactly floating but pretty cool way to organize washi tape!
The idea is to use command hooks and a wooden dowel to create storage space for your washi tape
19. DIY Acrylic Paint Organizer
Instead of tossing all of your acrylic paint into a box or drawer, you might consider a storage space just like this one.
Credit: Instagram
You'll need a bulletin board, nails and clips
Hammer nails into the board in a horizontal fashion or in any way you like your board to look.
This gives you an easy way to access your paint and know when they run low.
20. Marker Storage With Glass Jars
Showcase your beautiful marker on your shelf with clear glass jars.
It lets you find the color you need with a glance without rummaging through the drawer or boxes trying to find that one pen.
21. Spool And Embroidery Thread Organizer
This affordable spool rack is the perfect solution for storing and showcasing your thread in one place.
The great thing about this spool organizer is that it doesn't take up much space and can be place on the table or small shelf
No more going through stacks of spool to find the color you need, this spool helps save time and frustration.
22. Yarn Storage Rack
Access your tools for your knitting projects quickly with the knitting storage basket.
This pretty yarn rack is collapsible and has pockets for needle storage
Checkout Knitting storage rack on Amazon
23. Shower Caddy For Craft Organization
What an amazing idea!
Using a bathroom shower caddy for craft organization is definitely functional, space saving and practical!
Hang your stationary buckets, sketchbook, craft papers and other small items on the wall to increase storage space for your craft room
Now it's your turn!
Which craft organization idea did you like best?
Was it the washi tape organizer?
Maybe it's the pegboard?
Leave your thoughts in the comment section below
Also, the links provided lets you buy directly from Amazon at no addition cost to you.